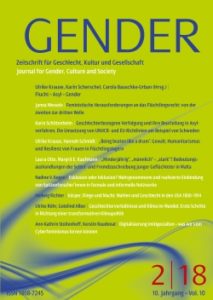 The special issue on Forced Migration – Asylum – Gender was published in the German journal Gender which I co-edited together with Karin Scherschel and Carola Bauschke-Urban. In addition to the introduction, I was also involved in an article with Hannah Schmidt.
All articles are in German and can be accessed online.
Articles in the special issue: 
Einleitung. Flucht – Asyl – Gender: Entwicklungen und Forschungsbedarfe Ulrike Krause, Karin Scherschel
Schwerpunktaufsätze
Feministische Herausforderungen an das Flüchtlingsrecht: von der zweiten zur dritten Welle  Janna Wessels 
Geschlechterbezogene Verfolgung und ihre Beurteilung in Asylverfahren. Die Umsetzung von UNHCR- und EU-Richtlinien am Beispiel von Schweden Karin Schittenhelm
"Being beaten like a drum". Gewalt, Humanitarismus und Resilienz von Frauen in Flüchtlingslagern Ulrike Krause, Hannah Schmidt
"Minderjährig", "männlich" – "stark"? Bedeutungsaushandlungen der Selbst- und Fremdzuschreibung junger Geflüchteter in Malta. Eine intersektionelle Leseweise ethnografischer Forschungsausschnitte Laura Otto, Margrit E. Kaufmann
Further information are accessible online. Articles can be downloaded here .