Women, Forced Migration – and Peace?Peacebuilding practices of women in refugee camps
Lead, Institute for Migration Research and Intercultural Studies (IMIS), University of Osnabrück; funded by the German Foundation for Peace Research, 2019-2021
What meanings do people, and in particular women, who have fled violent conflicts ascribe to peace? This question is central in the research project.
Worldwide, violent conflicts contribute to people leaving their homes to seek safety in other regions and countries. Research about the nexus of conflict and forced migration has thus far primarily explored effects of conflicts. Studies show that conflict-induced violence can persist in refugee situations, particularly in camps, and can pose specific risks for women. Yet the inherent focus on violence neglects the role of peace. For the most part, peace is reduced to a condition for the repatriation of people to their places of origin. However, it is not considered as an impacting part of everyday life or as a motive for actions of refugees and women specifically.
This is where the project Women, Forced Migration – and Peace? Peacebuilding practices of women in refugee camps comes in. The project places peace at the core of the research and links academic discourses on forced migration and peace. The nexus of conflict and forced migration is complemented with an interdependent connection to peace and refugee camps are understood as peace-relevant post-conflict situations. Through empirical research with case study in the refugee camp Kakuma in Kenya complemented with a second case in Germany, the aim is to investigate how women understand peace, how they seek to contribute to peaceful conditions in the refugee camp and in regions of origin, and what opportunities and limitations they experience in their peacebuilding practices.
For the analysis, the project draws on an agency focus and the local turn of critical peace research. An important part of this orientation is that the project refrains from a preconceived, fixed and possibly Eurocentric definition of peace. In line with the local turn, the 'local' knowledge and thus the views of the women on peace are perceived as essential and explored. Based on that women's practices for peace in their understanding as well as opportunities and limitations for their peace-related action are researched. To this end, the project employs Ruth Lister's (2004) agency theory.
By turning the perspective to peace, the project aims to stimulate academic discussions about the role of peace for refugees and to contribute to closing research gaps. In addition, the project pursues policy relevance and aims to share results about women as actors and their peacebuilding practices with humanitarian actors.
---
Global Refugee Protection and Local Refugee Engagement
Lead, Institute for Migration Research and Intercultural Studies (IMIS), University of Osnabrück (the project was first located at the Center for Conflict Studies, Marburg University); funded by the Gerda-Henkel Foundation,  05/2016-12/2019
The new research project is funded by Gerda Henkel Stiftung and is part of the Special Program 'Security, Society and the State'. In the project 'Global Refugee Protection and Local Refugee Engagement. Scope and Limits of the Agency of Refugee-led Community-based NGOs', the aim is to analyze how refugees contribute to their protection.
Over the past three decades, refugees have been predominately framed in both academic and public discourses as passive and vulnerable victims in need of protection and assistance by external actors. Due to their vulnerability during flight and encampment they are frequently presented as subjected to – instead of agents of – their future, as a passive and homogeneous group, ignoring their different social, cultural, economic and political interests and background. Although the refugee regime is responsible for the protection and thus security of refugees, refugees often face poor living conditions and experience diverse forms of violence while in camps or other settings. However, it has been widely neglected to look into ways through which refugees go beyond the institutionalized protection to support their own security. This is where the research project starts.
The objective of the project is to analyze how refugees engage in their safety. In particular, the focus is on how refugees contribute to their protection through local community-based organizations led by refugees. Thus, agency and resilience of refugees are fundamental in the research. In order to explore conditions, field research is conducted in a refugee camp and urban context in Uganda.
---
Gender Relations in Confined Spaces
Research Fellow, Center for Conflict Studies, Marburg University; funded by the German Foundation for Peace Research, 09/2013 – 04/2016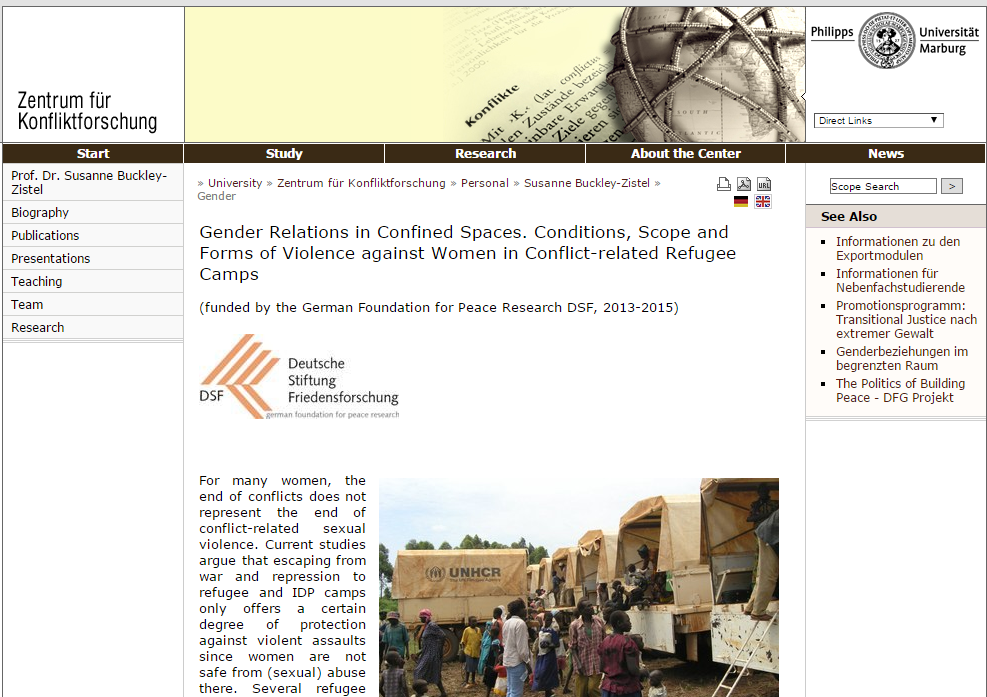 Under the lead of Prof. Susanne Buckley-Zistel, the research project entitled Gender Relations in Confined Spaces. Conditions, Scope and Forms of Violence against Women in Conflict-related Refugee Camps focuses on the nexus between displacement, gender relations and sexual violence in order to analyse the continuum of violence in post-conflict contexts or beyond the remits of war zones. This is based on the argument that many women experience violence in the context of armed conflicts differently since it often occurs outside of the temporal and spatial scopes of violent conflicts. Dichotomies such as before vs. after a cease-fire, public war zones vs. private homes, and enemy combatants vs. trustworthy family members are difficult to maintain. If and how this is manifested in conflict-related refugee camps is therefore an important contribution to gender perspectives in peace and conflict studies.
Our point of departure is the assumption that refugee camps are confined spaces in which gender relations are (re-)negotiated and (re-)defined. This happens within the categories men or women (homosocially) as well as between the categories men and women (heterosocially). Based on Raewyn Connell's concept of hegemonic masculinity, we assume that life in refugee camps is accompanied by a subjectively perceived degradation of masculinity, which is compensated by using violence against women in the private sphere. The research project seeks to empirically analyse if this is the case. In order to collect empirical data, the project employs a mix of methods from different social science perspectives that promises the best insights into micro- and meso-levels. The field research is based on a composition of participatory observation, problem-oriented and ethnographic interviews, ero-epic dialogues, and group discussions. The triangulation of different methods is to serve the validation of results and to obtain additional insights.